Ankle Replacement Training for Surgeons
The Salto Talaris Total Ankle Prosthesis, which has been modeled after the human anatomy and is redefining the conventional approach to ankle arthroplasty, is the leading total ankle replacement in the USA and recognised as one of the most advanced systems available in Europe.
Advancements in orthopaedic technology continue to revolutionise surgical options, which in turn requires surgeons to adopt new tools and techniques which make orthopaedic surgery more precise and more effective than ever before.
The Salto Talaris implant design and instrumentation is founded on the Salto mobile-bearing ankle prosthesis, which has been in clinical use since 1997 with a 93% implant survivorship at 6.4 year mean follow up and an 85% survivorship at 8.9 year mean follow up.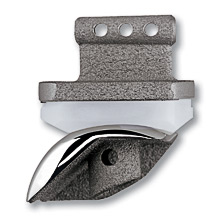 As the UK Reference & Training Surgeon for the Salto Total Ankle Replacement Prosthesis I work closely with the Royal College of Surgeons and the manufacturer (Tornier) to deliver regular seminars, surgical demonstrations and one-to-one training.
If you are a surgeon who would like to know more about the prosthesis and the training and support available, please feel free to contact me directly.
Alternatively, contact Mike Portis, UK Marketing Manager of Tornier on 01753 464850.