Hallux Rigidus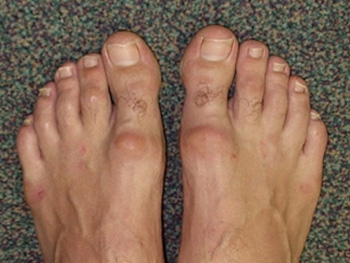 This is a painful condition where the big toe becomes stiff, often with a large lump developing on the top or a 'dorsal bunion". It slowly progresses causing increasing pain and disability, eventually affecting walking and running, often causing problems wearing shoes due to the dorsal bunion.
In Greek, it means "stiff big toe" and there are several conditions that can cause this. By far the most common is from arthritis of the joint, where the cartilage of the joint has worn away. The degree of arthritis ranges from mild, partial arthritis through to complete loss of the cartilage and destruction of the joint surfaces.
Treatment:
Analgaesics & Steroid Injections:
Painkillers will help in the early stages, especially with anti-inflammatories. An ultrasound guided steroid injection can also be very good but the results are usually temporary and may work for a few months.
Shoeware: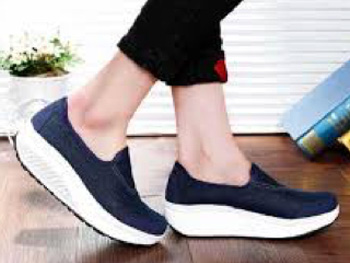 Rocker-bottom shoes can be very useful - the curved sole at the front reduces the movement and force on the big toe and are certainly worth trying.In general, there is no reliable long term treatment without surgery.
Surgery:
The correct treatment depends on the grade of arthritis - in milder cases this can be very successfully treated using keyhole techniques, which have a very rapid recovery. In the more severe cases the whole joint will need treating, either with a fusion of the joint or a replacement. These are discussed further in their specific sections.

The degree of arthritis is classified according to xrays and clinical examination:
GRADE
XRAY JOINT CHANGES
PAIN
STIFFNESS
OPERATION
1
MILD NARROWING
IMPINGEMENT
MILD
KEYHOLE

MI CHEILECTOMY
2
MODERATE
IMPINGEMENT
MODERATE
3
SEVERE
GLOBAL
SEVERE
FUSION OR JOINT REPLACEMENT
ADAPTED FROM COUGHLIN & SHURNAS JBJS AM 2003
There are other rarer causes of hallux rigidus, including osteochondral defects, sesamoiditis and metatarsus plus.
Surgery for Hallux Rigidus
There are 2 main types of surgery: one that simply removes the joint spurs (a cheilectomy) or one that removes the whole joint (either a fusion or a joint replacement).
Cheilectomy: This removes the spurs and also the top ¼ of the joint surface. I now perform all my cheilectomy operations using keyhole or Minimally Invasive techniques (MI Cheilectomy), often with arthroscopic assistance. It can also be performed using the traditional open surgery and many surgeons still do this, using an Open Cheilectomy.
Fusion (1st MTP Joint fusion or arthrodesis): This operation removes all the arthritic surfaces of the joint and 'fuses' the joint, permanently stiffening it. It is extremely successful.
Joint Replacement (1st MTP Joint replacement or arthroplasty): This operation replaces the arthritis with a metal joint.
Further information can be found in the specific links and web pages